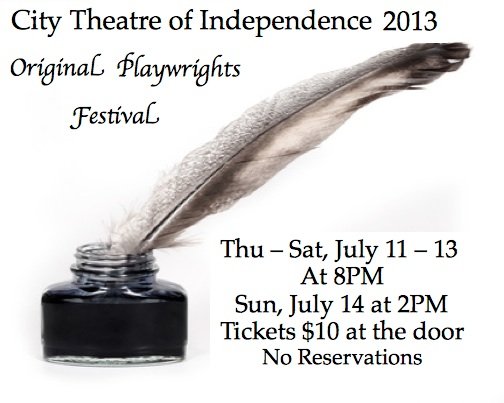 City Theatre of Independence is seeking short play submissions for the Fifth Annual Original Playwrights Festival. Play submissions will be accepted until May 15. Send to
jkmstone@comcast.net
.
Plays must be original, never published and never previously performed. Each play should be between 10 and 15 minutes run time. The theme for this year is "Waiting."
There will be one set on stage, consisting of 2 doors, 1 stage right and 1 up stage left, 1 side table and 2 chairs (if more chairs are needed the actors will carry on and off stage).
Fifth Annual Original Playwrights Festival – Performances July 11, 12, 13, 2013 at 8PM and July 14 at 2PM in the Powerhouse Theatre located in the Roger T. Sermon Community Center, 201 N. Dodgion, Independence. Tickets are $10 at the door for general seating.